Cross-posted from kandersteg.posterous.com where I'll be blogging about my summer in Switzerland from now on:
So I thought I'd write up where I'm going this summer (only taken me a week):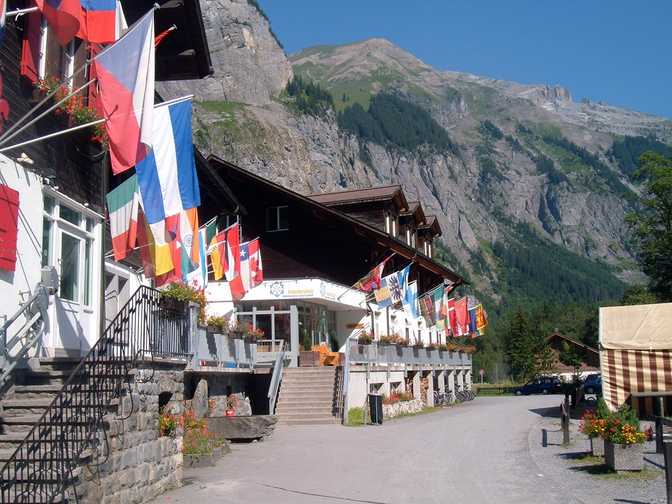 (via: Jonty Sewell on Flickr)
Kandersteg International Scout Centre in Switzerland, opened in 1923 by Robert Baden-Powell (who founded the Scouts) as a "Permament Mini Jamboree" for Scouts all round the world. Over 10 000 guests visit each year from around 40 different countries. Right in the middle of the Alps it's a great place for hiking, climbing, mountain biking and quite a lot more. KISC has a large Chalet which has rooms for 200 people, a large campsite holding 1200 people, and even a sauna!
I've been there twice before as a Scout with my troop, in 2000 and 2005. I have some pretty awesome memories of doing some great stuff out there and I'm excited to being going back.
What I'm doing
I'm working there for the three Summer season months doing, well, I don't know! I could be doing anything from cooking breakfast, cleaning the Chalet, helping out campers in the campsite, working in reception, taking Scouts hiking or rock climbing. So pretty varied then? :-)
The staff
The people who I'll be working with come from all around the world, just like the guests - I've been sent a list of everybody and I'm sure that I'll meet some pretty cool people.
The blog
I'll be keeping this blog updated with my Kandersteg Adventures - pictures, updates on what I'm doing, maybe even some video and audio... If you want to keep updated just click the little Subscribe button on the right hand side or follow me on Twitter: @40_thieves. Thanks! (Ed's note: Posterous shut down on 30th April 2013, so this blog was discontinued.)